Your brand should be a combination of a great idea and your personality.

Let's talk about the great idea first; this should be a problem that you have identified thus you are offering solutions. People don't want you to sell them products/services they want to know how those products/services can fix a need in their lives.


Tweetie African designs is an online store that deals with African products: African sandals(ladies, gents and children), African baskets commonly known as 'Kiondos', African necklaces, chokers, bracelets, earrings, beads, wallets, key holders, arts, Maasai shukas and Afrikan attires + MORE. Besides that they also deal with leather bags.




​Tweetie African designs realized that there was a great need for the unique African products in Kenya and around the world and Tweetie could provide those products. Jacqueline Ndanu the CEO admits that when she started this venture it was about making an extra coin but soon realized that there was a rich heritage of the African Culture that had to be explored.

Thus her great idea had been born.


Secondly a brand has to infuse with your personality.
What do I mean by personality? Your passion. The ancient Chinese sage Confucius said choose a job you love (find something you are passionate about) and you will never have to work a day in your life. What is it that keeps you up at night; you know trying to figure out how you can accomplish it? What really excites you? Something you can work on endlessly and never feel the strain? There is where your passion lies.

For Jacqueline Ndanu it was the love of Art work which is very evident from her products. It was about products that gave people a sense of belonging whether you were carrying/wearing the products or you were part of the creative journey.




She says, "I mean if I carry a 'Kiondo' I feel more African than when I am carrying other bags, I'm not saying that carrying other bags is bad, but all I'm saying is that all I want is to sell what belongs to us. I want to sell Kenya, products from Kenya, made by a lady somewhere in Ukambani or any other part of this great country of Kenya".
​


"When it comes to branding your product/service always remember that the logo is not your brand. "

When it comes to branding your product/service always remember that the logo is not your brand. A brand is what people say about you, your products/services when you are not present. A brand is the relationships with your audience, your brand is people trusting you (that you will deliver). Of course we can't entirely dismiss the basic aspects of branding. When choosing a logo for your product/service there are key considerations: Like what experience do you want for your audience when they interact with your brand? What colours, fonts, and style of images do you feel reflects your messaging?
Powered by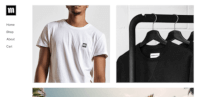 Create your own unique website with customizable templates.